Wednesday
We run screenings every Wednesday at 6pm in the Copland Lecture Theatre. We are currently showing the following series every Wednesday night:
---
One Punch Man 2nd Season*

Saitama started out being a hero just for fun. After three years of "special" training, he became so powerful that he can defeat opponents with a single punch. Now, alongside Genos, his faithful cyborg disciple, Saitama is ready to begin his official duties as a professional hero working with the Hero Association.
However, the frequency of monster appearances is surging and it increasingly appears as if the Great Seer Madame Shibabawa's prediction about the Earth's doom is coming true. In the midst of this crisis, the "hero hunter" Garou makes his own appearance.
6:00pm/23 min/12 episodes/R – 17+ (violence & profanity)/Action, Sci-fi, Comedy, Parody, Superpower, Supernatural, Seinen
*Madman/Anime-Lab Sponsored Screening
---
Yona of the Dawn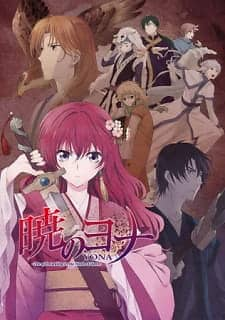 Princess Yona lives a life of luxury and ease, completely sheltered from the problems of the seemingly peaceful Kingdom of Kouka; however, the sudden murder of the king and betrayal of her beloved cousin Su-won places Yona's life in mortal peril. Forced to escape only with Son Hak, who is both her childhood friend and bodyguard, the naïve princess soon discovers that Kouka is not the idyllic place she envisioned it to be. Poverty, strife, and corruption run rampant, making reclaiming the throne nothing more than a wishful fantasy given the kingdom's current state.
Based on the popular manga of the same name by Mizuho Kusanagi, Akatsuki no Yona follows Princess Yona on a coming-of-age adventure as she faces the harsh realities of her kingdom. With only a mysterious legend to guide her, Yona must discover a way to restore Kouka to its former glory while being pursued relentlessly by the forces of the new King of Kouka.
6:25pm/24 min/24 episodes/PG-13 – Teens 13 or older/Action, Adventure, Comedy, Fantasy, Romance, Shoujo
---
Kaguya-sama: Love is War*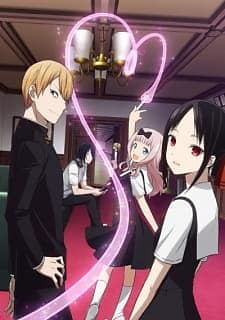 At the renowned Shuchiin Academy, Miyuki Shirogane and Kaguya Shinomiya are the student body's top representatives. Ranked the top student in the nation and respected by peers and mentors alike, Miyuki serves as the student council president. Alongside him, the vice president Kaguya—eldest daughter of the wealthy Shinomiya family—excels in every field imaginable. They are the envy of the entire student body, regarded as the perfect couple.
However, despite both having already developed feelings for the other, neither are willing to admit them. The first to confess loses, will be looked down upon, and will be considered the lesser. With their honor and pride at stake, Miyuki and Kaguya are both equally determined to be the one to emerge victorious on the battlefield of love!
6:50pm/25 min/12 episodes/PG-13 – Teens 13 or older/Comedy, Psychological, Romance, School, Seinen
---
Angolmois: Record of Mongol Invasion*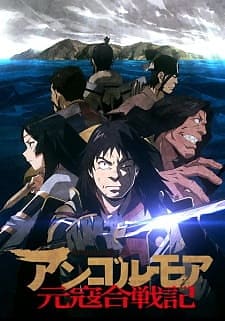 The scary great king comes from the other side of the sea… The big incident "Genkou" that shook medieval Japan is being drawn in an original way in this historical anime, along with the beginning of the Samurai!
7:15pm/23 min/12 episodes/PG-13 – Teens 13 or older/Action, Drama, Historical, Military, Samurai
---
Code Geass: Lelouch of the Rebellion R2*
One year has passed since the Black Rebellion, a failed uprising against the Holy Britannian Empire led by the masked vigilante Zero, who is now missing. At a loss without their revolutionary leader, Area 11's resistance group—the Black Knights—find themselves too powerless to combat the brutality inflicted upon the Elevens by Britannia, which has increased significantly in order to crush any hope of a future revolt.
Lelouch Lamperouge, having lost all memory of his double life, is living peacefully alongside his friends as a high school student at Ashford Academy. His former partner C.C., unable to accept this turn of events, takes it upon herself to remind him of his past purpose, hoping that the mastermind Zero will rise once again to finish what he started, in this thrilling conclusion to the series.
7:40pm/24 min/25 episodes/R – 17+ (violence & profanity)/Action, Military, Sci-fi, Superpower, Drama, Mecha
---
Friday
We run screenings every Friday from 5pm in the Engineering Lecture Theatre. We're currently showing the following series every Friday night:
---
My Hero Academia 3rd Season*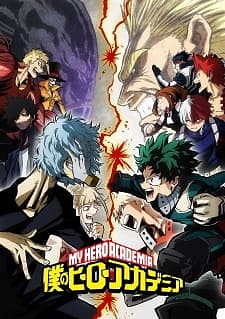 As summer arrives for the students at UA Academy, each of these superheroes-in-training puts in their best efforts to become renowned heroes. They head off to a forest training camp run by UA's pro heroes, where the students face one another in battle and go through dangerous tests, improving their abilities and pushing past their limits. However, their school trip is suddenly turned upside down when the League of Villains arrives, invading the camp with a mission to capture one of the students.
Boku no Hero Academia 3rd Season follows Izuku "Deku" Midoriya, an ambitious student training to achieve his dream of becoming a hero similar to his role model—All Might. Being one of the students caught up amidst the chaos of the villain attack, Deku must take a stand with his classmates and fight for their survival.
5:00pm/23 min/25 episodes/PG-13 – Teens 13 or older/Action, Comedy, School, Shounen, Super Power
---
Rascal Does Not Dream of Bunny Girl Senpai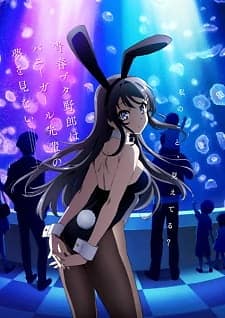 The rare and inexplicable Puberty Syndrome is thought of as a myth. It is a rare disease which only affects teenagers, and its symptoms are so supernatural that hardly anyone recognizes it as a legitimate occurrence. However, high school student Sakuta Azusagawa knows from personal experience that it is very much real, and happens to be quite prevalent in his school.
Mai Sakurajima is a third-year high school student who gained fame in her youth as a child actress, but recently halted her promising career for reasons unknown to the public. With an air of unapproachability, she is well known throughout the school, but none dare interact with her—that is until Sakuta sees her wandering the library in a bunny girl costume. Despite the getup, no one seems to notice her, and after confronting her, he realizes that she is another victim of Puberty Syndrome. As Sakuta tries to help Mai through her predicament, his actions bring him into contact with more girls afflicted with the elusive disease.
5:25pm/24 min/13 episodes/PG-13 – Teens 13 or older/Comedy, Romance, School, Supernatural
---
Endro~!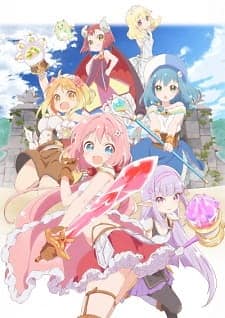 Naral Island, a continent with swords and magic in which humans and monsters coexist. The terrible Demon King lives there. In ancient times, the first-generation hero defeated the Demon King. Over the many successive generations since then, the Demon King has been resurrected, and the hero who opposes him has likewise reappeared. Girls attend a school for adventurers in order to defeat the Demon King when he appears again.
Though a bit absent-minded, Yusha has the body of a hero. The holy elf Seyla's trouble never ends because she is too serious. The cheerful warrior Fai loves to eat. Mei is a quiet otaku magician. As the four girls aim to be in the hero party, they live relaxed fantasy lives and show no sign of defeating the Demon King no matter how much time passes.
5:50pm/23 min/12 episodes/No Rating/Slice of Life, Magic, Fantasy
---
Isekai Quartet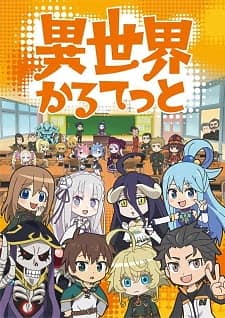 A mysterious switch appeared one day. Upon pressing it, they were sent to a different alternative world!! There are also characters from other alternative worlds gathered together…!?
6:15pm/12 min/12 episodes/PG-13 – Teens 13 or older/Comedy, Parody, Fantasy
---
Meddlesome Kitsune Senko-san
The everyday life of Nakano, a salaryman working for an exploitative company, is suddenly intruded upon by the fox, Senko-san (800-year-old little girl). Whether it be cooking, cleaning, or special service(?)… she'll heal his exhaustion with her tender "care."
6:30pm/23 min/12 episodes/PG-13 – Teens 13 or older/Slice of Life, Comedy, Supernatural, Romance
---
Atom: The Beginning*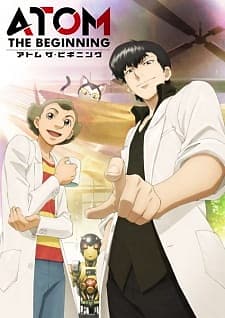 Japan in the near future suffers an unexplained major disaster. Five years later, reconstruction is well underway. Two young researchers at a university are pinning all their hopes on robot development. Now their new interpretation of the eternal hero Astro Boy up until his birth is just about to start!
6:55pm/25 min/12 episodes/PG-13 – Teens 13 or older/Action, Sci-fi, Mecha, Seinen
---
The Promised Neverland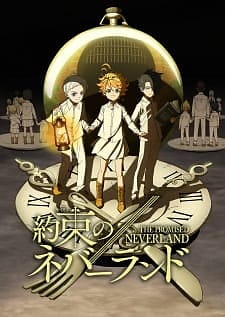 Surrounded by a forest and a gated entrance, the Grace Field House is inhabited by orphans happily living together as one big family, looked after by their "Mama," Isabella. Although they are required to take tests daily, the children are free to spend their time as they see fit, usually playing outside, as long as they do not venture too far from the orphanage—a rule they are expected to follow no matter what. However, all good times must come to an end, as every few months, a child is adopted and sent to live with their new family… never to be heard from again.
However, the three oldest siblings have their suspicions about what is actually happening at the orphanage, and they are about to discover the cruel fate that awaits the children living at Grace Field, including the twisted nature of their beloved Mama.
7:20pm/22 min/12 episodes/R – 17+ (violence & profanity)/Sci-fi, Mystery, Horror, Psychological, Thriller, Shounen
---
(All synopses and episode lengths and counts from MyAnimeList, ratings from MyAnimeList /aniDB, images from Google Images. Content ratings are unofficial and a guide only, and do not correspond directly with the Australian classification system.)