Sz Screenings List for 2019
Wednesday
We run screenings every Wednesday at 6pm in the Copland Lecture Theatre. We are currently showing the following series every Wednesday night:
---
Anima Yell!

Kohane Hatoya's most lovable trait is also her greatest flaw. She loves to help others no matter how far she has to go in order to get the job done. Her biggest inspiration to do so comes to light when she sees what cheerleading looks like for the first time in middle school. Now a highschooler but as enthusiastic as ever, Kohane wants nothing more than to start her very own cheerleading squad. She's encouraged by her best friend, Uki Sawatari, who often has to help her get out of trouble.
There is just one problem: Kohane does not have any experience in cheerleading. She has absolutely no idea what to do, what to wear, or how to perform. To make matters worse, she has been scared of heights since childhood, and this new sport is full of stunts pulled far from the ground for a girl her size. Enter Hizume Arima, a former cheerleader who wishes to leave her pastime behind. Unfortunately for her, Kohane recognizes Hizume, and will stop at nothing just so she can lead the new squad, even if it means facing her childhood fear.
6:00pm/23 min/12 episodes/PG-13 – Teens 13 or older/Comedy, School, Sports
---
Yona of the Dawn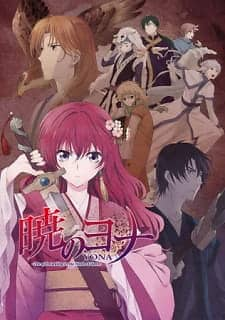 Princess Yona lives a life of luxury and ease, completely sheltered from the problems of the seemingly peaceful Kingdom of Kouka; however, the sudden murder of the king and betrayal of her beloved cousin Su-won places Yona's life in mortal peril. Forced to escape only with Son Hak, who is both her childhood friend and bodyguard, the naïve princess soon discovers that Kouka is not the idyllic place she envisioned it to be. Poverty, strife, and corruption run rampant, making reclaiming the throne nothing more than a wishful fantasy given the kingdom's current state.
Based on the popular manga of the same name by Mizuho Kusanagi, Akatsuki no Yona follows Princess Yona on a coming-of-age adventure as she faces the harsh realities of her kingdom. With only a mysterious legend to guide her, Yona must discover a way to restore Kouka to its former glory while being pursued relentlessly by the forces of the new King of Kouka.
6:25pm/24 min/24 episodes/PG-13 – Teens 13 or older/Action, Adventure, Comedy, Fantasy, Romance, Shoujo
---
Code Geass: Lelouch of the Rebellion R2*
One year has passed since the Black Rebellion, a failed uprising against the Holy Britannian Empire led by the masked vigilante Zero, who is now missing. At a loss without their revolutionary leader, Area 11's resistance group—the Black Knights—find themselves too powerless to combat the brutality inflicted upon the Elevens by Britannia, which has increased significantly in order to crush any hope of a future revolt.
Lelouch Lamperouge, having lost all memory of his double life, is living peacefully alongside his friends as a high school student at Ashford Academy. His former partner C.C., unable to accept this turn of events, takes it upon herself to remind him of his past purpose, hoping that the mastermind Zero will rise once again to finish what he started, in this thrilling conclusion to the series.
6:50pm/24 min/25 episodes/R – 17+ (violence & profanity)/Action, Military, Sci-fi, Superpower, Drama, Mecha
*Madman/Anime-Lab Sponsored Screening
---
Tsurune: Kazemai Koukou Kyuudoubu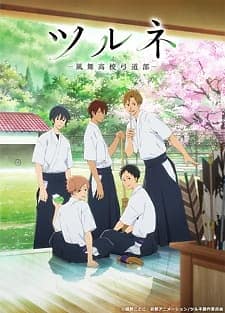 "Tsurune"—It's the sound made by the bowstring when an arrow is released, and the sound that inspired Minato Narumiya to learn Kyuudo, a modern Japanese martial art focusing on archery. However, an incident during his last middle school tournament caused him to quit the sport.
But soon, many factors conspire to make Minato take up the bow once again: the start of a new Kyuudo club in his high school, a chance encounter with a mysterious archer, and the support of his childhood friends, Seiya Takehaya and Ryouhei Yamanouchi. Together with his childhood friends and his new teammates, Kaito Onogi and Nanao Kisaragi, Minato rekindles his love for Kyuudo and works with his team toward their aim of winning the prefectural tournament.
7:15pm/24 min/13 episodes/PG-13 – Teens 13 or older/Sports, Drama, School
---
Golden Kamuy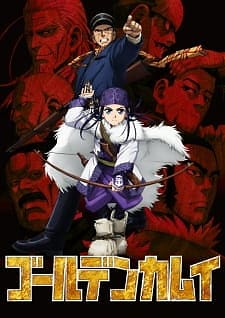 In Hokkaido, the far northern lands of Japan, Sugimoto survived the Russo-Japanese war of the Meiji era. Nicknamed "Sugimoto the Immortal" during the war, he now seeks the riches promised by the gold rush in hopes of saving the widowed wife of his now deceased comrade from the war. During his hunt of gold, he finds hints of a hidden stash of gold by corrupt criminals. Partnering with an Ainu girl that saves his life from the harsh climates of the north, they venture into a survival adventure to race against the criminals that seek the hidden stash.
7:40pm/23 min/12 episodes/R – 17+ (violence & profanity)/Action, Adventure, Historical, Seinen
---
Friday
We run screenings every Friday from 5pm in the Copeland Lecture Theatre. We're currently showing the following series every Friday night:
---
My Hero Academia 3rd Season*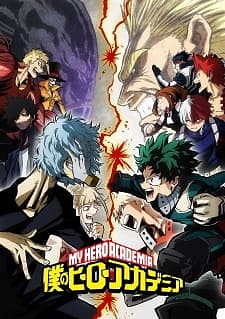 As summer arrives for the students at UA Academy, each of these superheroes-in-training puts in their best efforts to become renowned heroes. They head off to a forest training camp run by UA's pro heroes, where the students face one another in battle and go through dangerous tests, improving their abilities and pushing past their limits. However, their school trip is suddenly turned upside down when the League of Villains arrives, invading the camp with a mission to capture one of the students.
Boku no Hero Academia 3rd Season follows Izuku "Deku" Midoriya, an ambitious student training to achieve his dream of becoming a hero similar to his role model—All Might. Being one of the students caught up amidst the chaos of the villain attack, Deku must take a stand with his classmates and fight for their survival.
5:00pm/23 min/25 episodes/PG-13 – Teens 13 or older/Action, Comedy, School, Shounen, Super Power
---
The Demon Girl Next Door
After a strange dream of a mysterious ancestor, high school student Yuuko Yoshida wakes to see that she has grown demonic horns and a tail. Dazed and confused, her mother reveals to her a dark family secret: her family is descended from a Dark Clan that was banished to live powerless and destitute by their mortal enemies, the magical girls of the Light Clan. The only way to lift their ancestry's curse is for Yuuko to find a magical girl, murder her, and splatter her blood all over her ancestor's Demon God statue.
Fortunately for "Shadow Mistress Yuuko," a magical girl saves her from being run over by an oncoming truck. Unfortunately, Momo Chiyoda happens to be Yuuko's classmate at Sakuragaoka High and is much stronger than her in both strength and endurance. Taking pity on her wimpy assailant, the magical girl agrees to train Yuuko and help her unlock her dormant powers. Now, Yuuko must rise up and defeat her generous frenemy to save her family from the terrible grip of poverty.
5:25pm/24 min/12 episodes/PG-13 – Teens 13 or older/Comedy, Magic, Slice of Life
---
Mix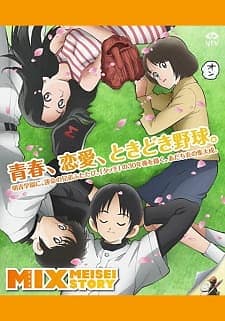 Because of the legend left by Tatsuya Uesugi, Meisei Academy High School was well-known for their strong baseball team. But 26 years after their glory, the team has not been able to keep their record and has since lost their fame.
Two stepbrothers, Souichirou and Touma Tachibana, aim to revive of the once-strong Meisei Academy baseball team and enter the National High School Baseball Championship.
Souichirou and Touma are second years in Meisei Academy Middle School. Both boys are talented baseball players. Souichirou has shown excellent skill as a catcher and batter. Though having an extraordinary skill as a pitcher, Touma no longer pitches due to a certain reason.
Once the two enter high school, they pair as a battery and aim to enter the National High School Baseball Championship!
5:50pm/23 min/24 episodes/PG-13 – Teens 13 or older/Drama, Romance, School, Shounen, Sports
---
A Place Further Than The Universe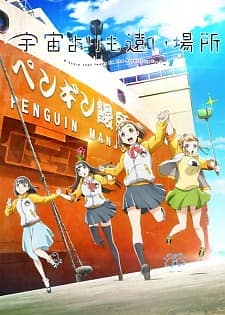 Filled with an overwhelming sense of wonder for the world around her, Mari Tamaki has always dreamt of what lies beyond the reaches of the universe. However, despite harboring such large aspirations on the inside, her fear of the unknown and anxiety over her own possible limitations have always held her back from chasing them. But now, in her second year of high school, Mari is more determined than ever to not let any more of her youth go to waste. Still, her fear continues to prevent her from taking that ambitious step forward—that is, until she has a chance encounter with a girl who has grand dreams of her own.
Spurred by her mother's disappearance, Shirase Kobuchizawa has been working hard to fund her trip to Antarctica. Despite facing doubt and ridicule from virtually everyone, Shirase is determined to embark on this expedition to search for her mother in a place further than the universe itself. Inspired by Shirase's resolve, Mari jumps at the chance to join her. Soon, their efforts attract the attention of the bubbly Hinata Miyake, who is eager to stand out, and Yuzuki Shiraishi, a polite girl from a high class background. Together, they set sail toward the frozen south.
Sora yori mo Tooi Basho follows the captivating journey of four spirited girls, all in search of something great.
6:15pm/23 min/12 episodes/PG-13 – Teens 13 or older/Adventure, Comedy
---
Run with the Wind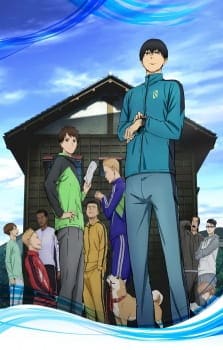 Former ace runner of Sendai Josei High School, Kakeru Kurahara is chased away from a convenience store for shoplifting. Shaking off his pursuer, he runs into Haiji Kiyose, another student from his university. Haiji is impressed by Kakeru's agility and persuades him to live in Chikusei-sou, the run-down apartment where Haiji resides along with eight other students. Having lost his entire apartment deposit at a mahjong parlor, Kakeru accepts the offer reluctantly.
However, Haiji reveals a secret during Kakeru's welcoming party: the apartment is actually the dormitory of the Kansei University Track Club. He unveils his ultimate goal of participating in the Hakone Ekiden—one of the most prominent university marathon relay races in Japan. Unfortunately, all the residents apart from Haiji and Kakeru are complete running novices. Worse still, none of the inhabitants are even remotely interested in being involved with Haiji's ridiculous plan! With only months before the deadline, will the fourth-year student be able to convince them otherwise and realize his elusive dream of running in the Hakone Ekiden?
6:40pm/23 min/23 episodes/PG-13 – Teens 13 or older/Comedy, Sports, Drama
---
(All synopses and episode lengths and counts from MyAnimeList, ratings from MyAnimeList /aniDB, images from Google Images. Content ratings are unofficial and a guide only, and do not correspond directly with the Australian classification system.)