Wednesday
We run screenings every Wednesday at 6pm in the Engineering Lecture Theatre. We're currently showing the following series every Wednesday night:
---
Magi: The Labyrinth of Magic*

Dispersed around the world, there are several bizarre labyrinths hiding incredible treasures within them. These mysterious places, known as "Dungeons," are said to be the work of Magi, a class of rare magicians, who also help people build their empires by guiding them to a dungeon. Djinns, supernatural beings that rule over the labyrinths, grant successful conquerors access to their immense power and choose them as potential king candidates to rule the world.
Having spent life in isolation, Aladdin, a kind and young magician, is eager to explore the world upon finally leaving his home behind. He begins his journey only accompanied by his mentor Ugo—a djinn that Aladdin can summon with his flute. However, Aladdin soon becomes friends with the courageous Alibaba Saluja after causing the destruction of a local merchant's supply cart. In order to pay for the damages, Alibaba suggests that they attempt to conquer the nearest dungeon, taking the first step in an epic adventure that will decide the fate of the world itself.
6:00pm/24 min/25 episodes/PG-13 – Teens 13 or older/Action, Adventure, Fantasy, Magic, Shounen
*Madman/Anime-Lab Sponsored Screening
---
Zombie Land Saga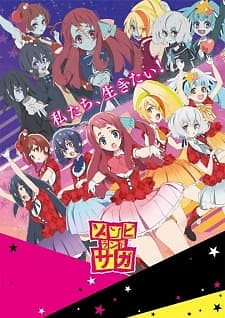 In 2008, high school student Sakura Minamoto is on her way to audition for an idol group when she is killed in a traffic accident. Ten years later, she discovers that she, along with six other "legendary" girls from various eras of Japan's history, are resurrected as zombies by Kotaro Tatsumi to save Saga Prefecture as the all-zombie idol group Franchouchou.
6:50pm/23 min/12 episodes/R – 17+ (violence & profanity)/Music, Comedy, Supernatural
---
Code Geass: Lelouch of the Rebellion*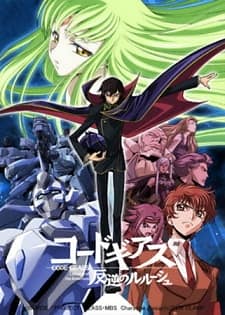 In the year 2010, the Holy Empire of Britannia is establishing itself as a dominant military nation, starting with the conquest of Japan. Renamed to Area 11 after its swift defeat, Japan has seen significant resistance against these tyrants in an attempt to regain independence.
Lelouch Lamperouge, a Britannian student, unfortunately finds himself caught in a crossfire between the Britannian and the Area 11 rebel armed forces. He is able to escape, however, thanks to the timely appearance of a mysterious girl named C.C., who bestows upon him Geass, the "Power of Kings." Realizing the vast potential of his newfound "power of absolute obedience," Lelouch embarks upon a perilous journey as the masked vigilante known as Zero, leading a merciless onslaught against Britannia in order to get revenge once and for all.
7:15pm/24 min/25 episodes/R – 17+ (violence & profanity)/Action, Drama, Mecha, Military, School, Sci-fi, Super Power
---
Friday
We run screenings every Friday from 5pm in the Copeland Lecture Theatre. We're currently showing the following series every Friday night:
---
My Hero Academia*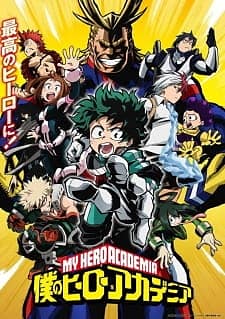 The appearance of "quirks," newly discovered super powers, has been steadily increasing over the years, with 80 percent of humanity possessing various abilities from manipulation of elements to shapeshifting. This leaves the remainder of the world completely powerless, and Izuku Midoriya is one such individual.
Since he was a child, the ambitious middle schooler has wanted nothing more than to be a hero. Izuku's unfair fate leaves him admiring heroes and taking notes on them whenever he can. But it seems that his persistence has borne some fruit: Izuku meets the number one hero and his personal idol, All Might. All Might's quirk is a unique ability that can be inherited, and he has chosen Izuku to be his successor!
Enduring many months of grueling training, Izuku enrolls in UA High, a prestigious high school famous for its excellent hero training program, and this year's freshmen look especially promising. With his bizarre but talented classmates and the looming threat of a villainous organization, Izuku will soon learn what it really means to be a hero.
5:00pm/24 min/13 episodes/PG-13 – Teens 13 or older/Action, Comedy, School, Shounen, Super Power
---
Irozuku: The World in Colors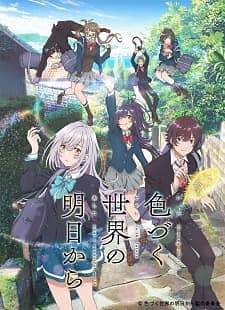 Despite the kaleidoscopic magic ingrained in everyday life, Hitomi Tsukishiro's monochrome world is deprived of emotion and feeling. On a night as black and white as any other, amidst the fireworks spreading across the sky, Hitomi's grandmother Kohaku conjures a spell, for which she has been harnessing the moon's light for 60 years, to send Hitomi back in time to the year 2018 when Kohaku was in high school.
Hitomi's mission seems unclear, but her grandmother assures her that she will know when she gets there. Following a trip through time aboard a train driven by a strange yellow creature, Hitomi finds herself in stoic artist Yuito Aoi's room, and his drawings flood her world with color. What is Hitomi's purpose there, and why do Yuito's drawings return such breathtaking color to her drab world?
5:50pm/24 min/13 episodes/PG-13 – Teens 13 or older/Drama, Magic, Romance
---
Ms. Vampire who lives in my neighbourhood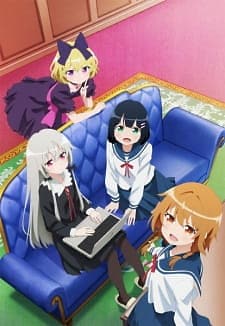 The modern-day vampire comedy centers on high school girl Amano, who was saved from a strange incident by a vampire girl named Sophie Twilight, and has been interested in her ever since. Akari arrives at her house uninvited and the two start to live together. Although a vampire, Sophie never attacks humans, but purchases blood and anime goods via mail and lives a modern life.
6:15pm/23 min/12 episodes/PG-13 – Teens 13 or older/Comedy, Shoujo Ai, Slice of Life, Supernatural, Vampire
---
March Comes in Like a Lion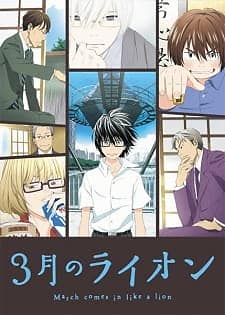 Having reached professional status in middle school, Rei Kiriyama is one of the few elite in the world of shogi. Due to this, he faces an enormous amount of pressure, both from the shogi community and his adoptive family. Seeking independence from his tense home life, he moves into an apartment in Tokyo. As a 17-year-old living on his own, Rei tends to take poor care of himself, and his reclusive personality ostracizes him from his peers in school and at the shogi hall.
However, not long after his arrival in Tokyo, Rei meets Akari, Hinata, and Momo Kawamoto, a trio of sisters living with their grandfather who owns a traditional wagashi shop. Akari, the oldest of the three girls, is determined to combat Rei's loneliness and poorly sustained lifestyle with motherly hospitality. The Kawamoto sisters, coping with past tragedies, also share with Rei a unique familial bond that he has lacked for most of his life. As he struggles to maintain himself physically and mentally through his shogi career, Rei must learn how to interact with others and understand his own complex emotions.
6:40pm/25 min/22 episodes/PG-13 – Teens 13 or older/Drama, Game, Seinen, Slice of Life